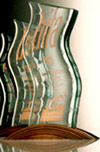 M©@®† studios offer a selection of specialised processes to produce bespoke designs in metal and glass. All work produced is exclusive to the client. An example of commissions delivered are awards presented at events and ceremonies.
Initial ideas can be provided from a designers brief or from collaboration with a client. Original artwork can also be provided by Aron McCartney, usually allowing the design to be directed by the the events context.

< Photograph of Glass BIFA Award on plinth



M©@®† awards have been made for a diverse range of cultural activities, commemorating excellence in the film industry, education institutions, equine events and commerce.