M©@®† studios offer a selection of specialised, bespoke designs in metal and glass. My gallery of work varies from award designs for film industry, lighting design and one off artworks.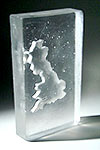 Attention to detail and a clients requirements for meeting specific deadlines among other aspects are of primary consideration in developing work from design to final concept. Points of reference can be developed in a variety of ways from design specifications provided by a brief or client to original concepts created by M©@®† studios.
From the initial consultation period, concept work maquettes and drawings are created for critical evaluation by the commissioning agents. Refining the concept is a creative process, information about which is presented at each stage of development to help resolve design issues. Clients are given advice about best methods of process techniques and appropriate materials to build the final work.